Resolving Disputes Out of Court
Not all disputes between parties are resolved in courts of law. Many are resolved through largely voluntary private processes referred to collectively as ADR, short for alternative dispute resolution. ADR is a confidential, sometimes less costly, means of resolving disputes that allows the parties more control over the choice of the arbiter of their dispute than would a court system. ADR never involves a jury. Pre-suit negotiation is a simple, informal type of ADR.
Another ADR type, mediation—although it may take place outside litigation—is increasingly being required by judges before a case may proceed to trial. Mediators are neutral third parties—often retired judges and lawyers who are unrelated to the parties or the facts in dispute. Parties to a mediation need not settle their dispute, even when their attendance is required by court order. If the mediating parties cannot reach agreement, they take whatever step is next.
A third type of ADR is arbitration. Arbitration proceeds somewhat like trial, just not in a court of law. Arbitration is a private process governed by rules set forth generally by not-for-profit organizations like the American Arbitration Association that operate in the ADR field. The process is facilitated by an arbitrator who, like a mediator, is a neutral third party. But unlike a mediator, the decision of an arbitrator is generally binding on the parties and subject to appeal. More and more, contracts include clauses that impose arbitration on the contracting parties when a dispute arises.
Baty Otto Coronado Scheer's attorneys regularly assist clients in settling disputes before a lawsuit is filed. They also regularly counsel clients in mediations required in the course of litigation. And they represent clients in matters brought in arbitration; for example, our attorneys prevailed recently in an arbitration on behalf of a client over an opposing party who sought more than $14 million in damages.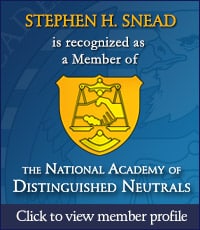 Why Select a Baty Otto Coronado Scheer Attorney to Mediate Your Dispute
In addition to the various types of alternative dispute resolution Baty Otto Coronado Scheer's attorneys employ day to day on behalf of their clients, two of our senior attorneys serve as neutral mediators, conducting mediations between parties they do not otherwise represent.
Kansas City partner Lee Baty and Springfield partner Steve Snead have served as neutral mediators in hundreds of disputes, collectively, arising from claims in the following areas of the law:
Lee Baty | Construction, negligence, products liability, and contracts
Steve Snead | Personal injury; property damage; professional negligence involving health care providers, design and construction professionals, real estate professionals, lawyers, and insurance agents; probate and estate; and employment
Steve was an original member of the U.S. District Court for the Western District of Missouri's panel of neutrals at the invitation of U.S. Magistrate James England. He became qualified under Missouri Supreme Court Rule 17 for alternative dispute resolution services, including mediation, in 2002. Steve is frequently appointed by or suggested as a mediator by area judges and has been appointed as special master by several area judges to advise on and resolve discovery and other pretrial disputes.
To reach a mediation or arbitration attorney at Baty Otto Coronado Scheer, contact us today.